Dr Ljubica Spaskovska
Lecturer in European History
6499
01392 726499
My research interests are in the political and socio-cultural history of internationalism, including development, decolonisation and histories of generations, while providing important new perspectives on the (re) making of anti-imperial Europe and approaches to European-Global South relations. My current and recent projects have addressed interwar student internationalism and the Spanish Civil War, the Non-Aligned Movement and the end of European Empires, the socio-cultural history of internationalism between South-Eastern Europe and Africa/Asia, and both the collapse of state socialism and the history of Yugoslavia, in a global perspective.
My first monograph The Last Yugoslav Generation: the Rethinking of Youth Politics and Cultures in Late Socialism (Manchester University Press) was published in April 2017. A paperback edition came out in August 2019.
A monograph, 1989. A Global History of Eastern Europe, written with my colleagues James Mark, Tobias Rupprecht and Bogdan Iacob to co-incide with the thirtieth anniversary of the 1989 revolutions, was published by Cambridge University Press in September 2019.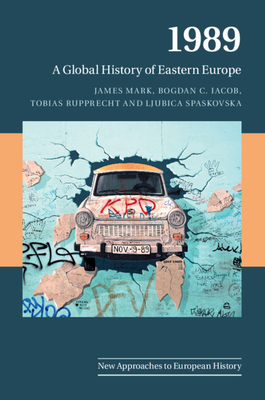 Research interests
My current research seeks to write neutrality and non-alignment back into European history and rethink twentieth-century European history from a South/non-aligned perspective. My current book project provisionally titled Comrades, Guerillas, Diplomats: Yugoslavia, Non-Alignment and the Quest for a New International Order, 1930-1990 seeks to globalise the history of European violence by tracing a relationship between the Spanish Civil War, WW2 and the post-1945 wars of decolonisation, and show the evolvement of interwar anti-imperialism into a broader Third World internationalist alliance. It will demonstrate how the exchanges and encounters enabled by some of the major historical events and movements of the twentieth century reflected broader debates about peace/violence, sovereignty, democracy and globalisation.
External impact and engagement
I serve as an external expert on the intergovernmental Macedonian-Bulgarian expert commission on educational and historical issues.
Media
Biography
I completed a PhD in History at Exeter University in 2014. Between 2014 and 2019 I was a post-doctoral research fellow on the Leverhulme-funded project "1989 after 1989: rethinking the fall of state socialism in a global perspective' at Exeter led by Professor James Mark. Between 2009 and 2014 I was part of the University of Edinburgh based project 'Europeanisation of citizenship in the successor states of the former Yugoslavia' (CITSEE) (http://citsee.eu/).
I received an MA in Central European History from the Central European University in 2009 and an MA in Democracy and Human Rights in South East Europe from the Universities of Bologna and Sarajevo in 2007. I did my undergraduate studies in Macedonia and at Duke University (U.S.) and I had previsouly worked as a project assistant at the Macedonain Academy of Sciences and Arts, in the civil society sectors in Macedonia and in Kosovo and as a literary translator from French.