Drama
Jon Primrose
Research through practice
Jon Primrose
Research through practice
Jon's work as a Lighting Designer is listed below and is covered in more detail on his website.
Lighting Designer;
2013 The Exeter Riddles for Animated Exeter & Exeter City Council
2002 End of Story for Chelsea Theatre and Two's Company
2001 Harry and Me for Warehouse Theatre, Croydon and Two's Company
2000 Dick Whittington for Qdos Productions in Wolverhampton (with Lisa Riley and Jimmy Cricket).
1999 Ten by Pinter featuring A Kind of Alaska for Two's Company on tour, in Edinburgh and in Springfield, Massachussets.
Lighting Designer at the Northcott Theatre, Exeter;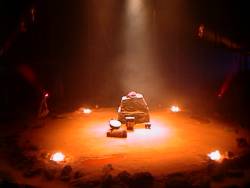 1998 Seneca's Oedipus by Ted Hughes, directed by John Durnin
1997 Far from the Madding Crowd devised by the company, directed by John Durnin
1996 Northanger Abbey by Jane Austen, adapted by Cathy Turner
1994 Amadeus by Peter Shaffer, directed by Tim Carroll,
1994 Breaking Bread Together by Robert Shearman, directed by John Durnin
The Last Yankee by Arthur Miller, directed by Tim Carroll
1990 Thark by Ben Travers, directed by Martin Harvey